Free Covid-19 Testing at greenwood school - May 28th
Free COVID-19 testing (nasal swab) will be done at the Greenwood School parking lot on Thursday May 28 from 6:00 - 8:00 pm. Masks will also be given away. This event is sponsored by the Roane County Health Department and the Greenwood School Education Foundation. If you have any questions, please call the Health Department at 865-354-1220.

Fast Pace Health is now proudly offering antibody testing, in ALL clinic locations, to determine if someone had past exposure to COVID-19. The test is done by analyzing a patient's blood sample. This test is intended for people who may have had COVID-19 symptoms but are no longer experiencing those symptoms. The test determines the presence of antibodies (your body's response) to the virus and helps identify people who may have been infected with the COVID-19 virus.
DRIVE THROUGH TESTING SUNDAY, APRIL 26 9AM - 4PM ROANE STATE COMMUNITY COLLEGE OAK RIDGE CAMPUS HOSTED BY THE ANDERSON COUNTY HEALTH DEPARTMENT AND THE TENNESSEE DEPARTMENT OF HEALTH.
LEARN MORE
EACH WEEK, MONDAY - FRIDAY 8AM - 4PM
Summit Medical group - Kingston
each week, MONDAY - FRIDAY 8AM - 4:30PM
ROANE COUNTY HEALTH DEPARTMENT
Please call the health department at 865-354-1220 before you go to provide your information and find out the best time. Anyone can be tested, whether you have symptoms or not, have traveled, or have been in contact with anyone ill. Drive through tests are provided at no charge, regardless of insurance status.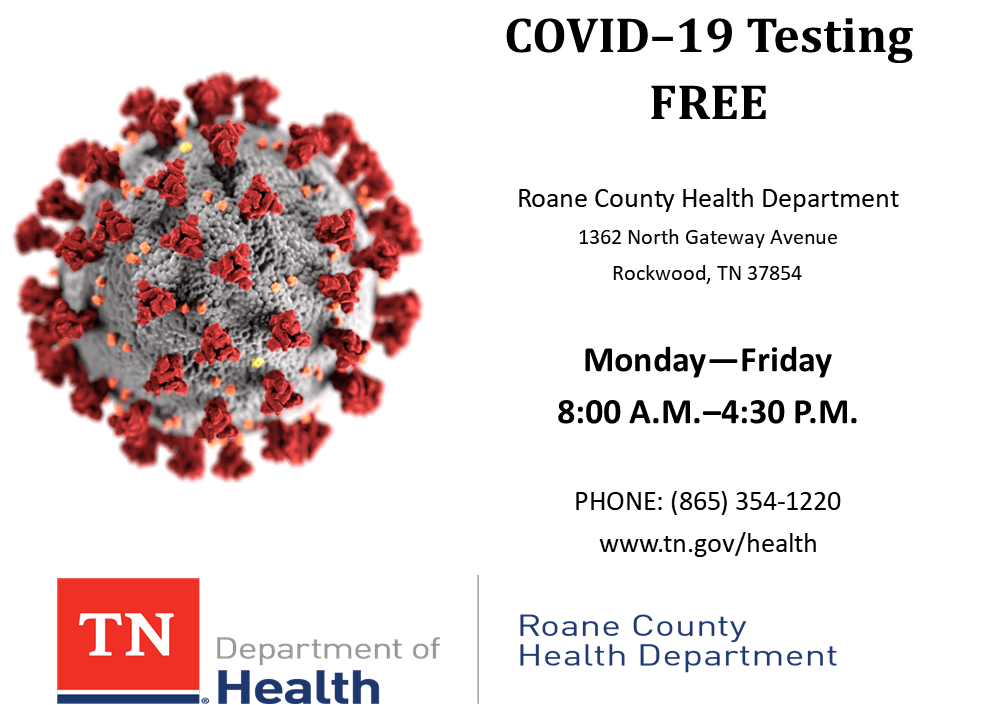 Sunday, April 19, 9 am - 4 pm
Roane State Community College
DRIVE THROUGH TESTING APRIL 15 - 17, 10 AM - 4 PM
OAK RIDGE HIGH SCHOOL PARKING LOT
LEARN MORE
CHECK BACK FOR ADDITIONAL TESTING DATES & LOCATIONS AS THEY ARE ANNOUNCED