Roane Alliance Gala, A Special Night with Top Businesses & Leaders
May 12, 2022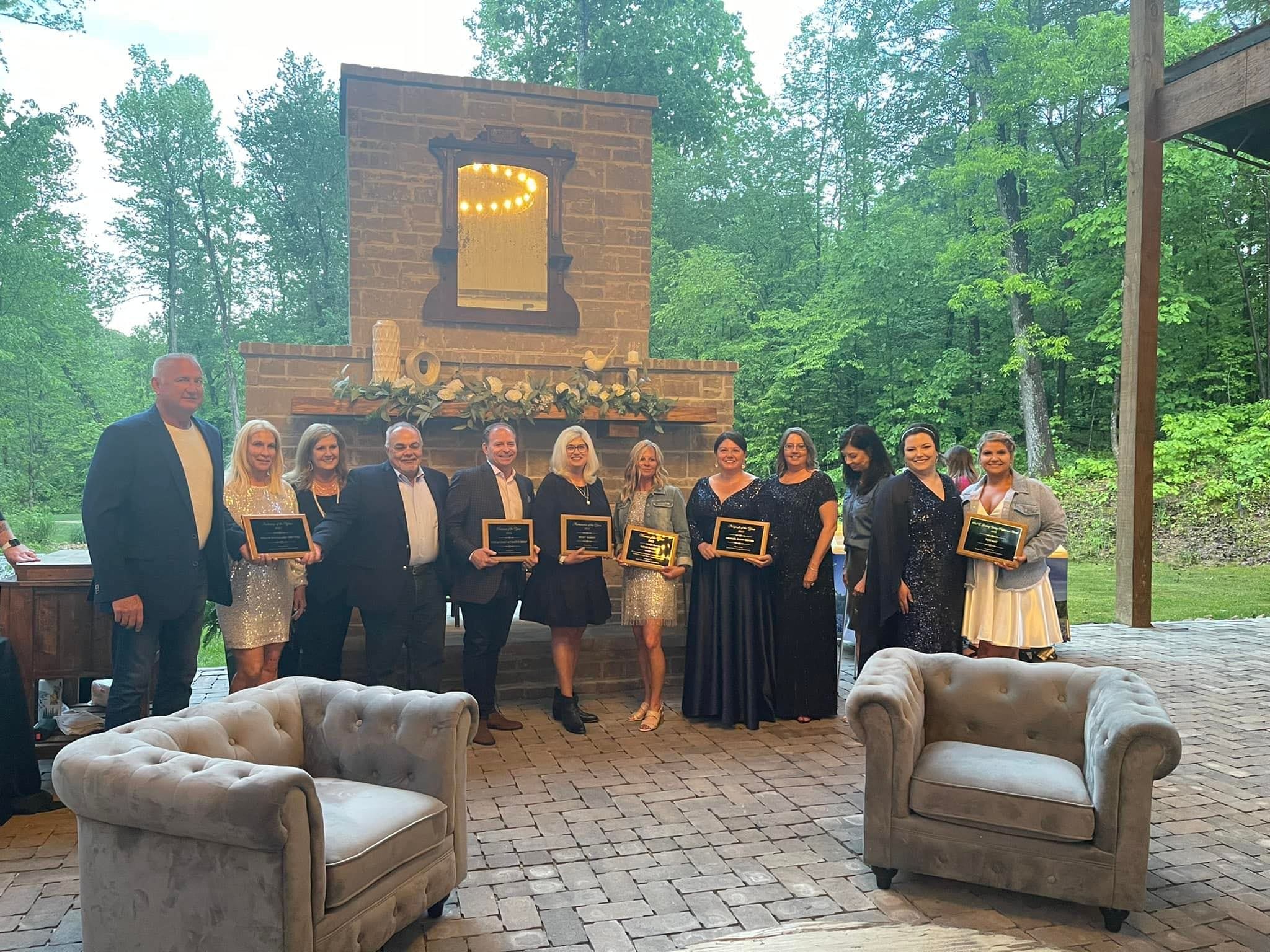 On May 6, the Roane Alliance held its Annual Roane Alliance Gala at the Barn at Maple Creek with close to 450 guests. The night included a reception, dinner, coveted business awards, live auction and the announcement of a new Hall of Fame recipient.
The Annual Chamber's Business Awards were presented, along with the Roane County Industrial Development Board's Industry of the Year, making this a night of celebration and recognition for Roane County's top leaders and businesses. Along with a few of the comments from their nominations, the 2022 Annual Business Award recipients were:
Roane Specialized Services - Industry of the Year; "the partnership between Roane Metals Group and Roane Transportation has grown to 239 employees, an increase of 73% over the last 5 years," and recently have purchased 45 acres in the Roane County Industrial Park in Rockwood and "plan to invest $4M on a new corporate office and 50,000 s/f warehouse."
Steve and Elaine Patterson - Paul Cowell Distinguished Service; who were honored for "donating their time to so many causes and organizations throughout the years" and "serving and giving back to their community, while building the successful Pattersons Appliances more than 50 years ago."
Duncan Family Automotive - Business of the Year; "after purchasing and expanding a 2nd dealership in Roane County in 2016, Marty Duncan expanded his long-time family legacy and investment in the county, that now employs 34 people."
Sarah Harrison - Woman of the Year; "Sarah has been the director of the Roane County Anti-Drug Coalition and instrumental in the growth and success of its programs since its inception in 2007," and "has served on numerous committees and boards, including the Roane Chamber Board."
Michael Dunn Center - Non-Profit of the Year; "this center has been serving Roane and surrounding counties for more than 50 years," and "is one of the top employers in the county, providing more than 350 jobs annually."
Tori May - Paul E. Goldberg Young Professional; "should be recognized and honored, for her work at the Roane Alliance and I will continue nominating her until she is," and "she has been so instrumental in so many successful programs, including the Ambassadors and the launch of the Young Professionals group."
Becky Gilbert - Ambassador of the Year; "whose heart for service and very upbeat attitude is what makes her so special," not to mention she "has been a Chamber Ambassador since 2015 and attends many events, representing the Roane Chamber and her employer, Tennessee College of Applied Technology, very well."
"This year's honorees have provided more than 250 years of combined service in Roane County, with some having multiple businesses and locations," said President Pam May, Roane Alliance. "Several are top employers and have provided many jobs for our citizens through the years, and all of them have invested time and time again to help grow Roane County's economy."
The Annual Business Awards were sponsored by Dr. Julian Ahler, while Kim Bell Medspa sponsored the Ambassador of the Year, which comes with a cash award for the honoree that is also selected by the entire Roane Chamber Ambassador group. Matt Waters, Roane State Community College, provided the digital media for the annual awards, which can be found at RoaneAlliance.org/awards, along with award nominating criteria and a list of previous winners.
The Roane Alliance inducted a member into their Hall of Fame - Dr. Julian Ahler, for the consistent contributions he has made to the Roane Alliance and its programs throughout the years. Jim Henry presented the award, recounting Dr. Ahler's generosity for his hometown of Harriman and the success of the Roane Alliance. The Hall of Fame recognition recognizes those who have been instrumental in the creation and success of the Roane Alliance through the years. Other Hall of Fame recipients include Steve Kirkham (2005), Jim Henry (2006), Jerry Duncan (2007), Jerry Stephens (2014), George Ed Wilson (2014) and David Webb (2016).
The Roane Alliance Gala is an annual fundraiser, providing close to 50% of the total annual Roane Alliance budget. As Roane County's official economic development organization, the funds raised go directly to economic development programs and efforts specifically to benefit Roane County and increase economic prosperity for its businesses and citizens.
Sponsors for this event are vital for making sure economic development efforts continue and Roane County continues to grow. The Roane Alliance is extremely thankful for their support. Title Sponsors: Coldwell Banker, Jim Henry & Associates with Jim Henry Event Center, EnergySolutions, Griffin Insurance Agency with Auto Owners Insurance, ORUD Natural Gas, and Roane County Government; Gold Sponsor: Roane State Community Foundation; and Silver Sponsors: CNS Y-12, Earl Duff Subaru and Earl Duff Pre-Owned, Roane Central Utility District, Roane Medical Center, Teijin Carbon America, TVA - Kingston Fossil Plant, and UCOR; and Bronze Sponsors: CROET, City of Harriman, City of Oak Ridge, City of Rockwood, Eddie's Body Shop, Harriman Utility Board, Jerry Duncan Ford & Duncan Family Automotive, MCLinc, Omni Family of Services, One Bank, Perma-Fix Environmental Services, and Roane Metals Group/Roane Transportation.
Thank you to our special sponsors: Bobcat of Knoxville, Reception; Holston Gas, Red Carpet Photographs; Engineering Services Group, Selfie Stations; Mackley Jewelers, Fine Jewelry; A1 Tactical, Gun provider and sponsor; Kitts Dumpster Service & Southern Services Repair & Maintenance, Gun Sponsor; Daycab Company, ACE Hardware of Kingston and 518 Liquor, Wheelbarrow of Liquor Sponsors; and Blue Bell Creameries, Dessert.
And a special thank you to our volunteers and helpers, who without them we could not hold such a successful event: WIVK radio personality Kent Stephens, AGA Insurance, as the Master of Ceremonies; Auctioneer Bear Stephensen, Stephensen Realty & Auction; Roane County Highway Department, for the extra golf carts; Lexie Swint and Amanda Armes, A1 Tactical; as well as volunteers Stephanie DeChaine, Sonny Hunter, Diana and Bruce Knobloch, Kelsie and Triston Loghry, Jamie Poland, Jennifer Skiles and Taelor Snow and Ryan Wormsley; spouses of the Alliance staff: Matt Brown, Buffy Snow and Erin Parten; the Gala Committee: Chair Sharon Templeton, Lynn Farnham, Sasha Benjamin, Sean Hensley, Kent Stephens and Scott Stout; our celebrity live auction spotters Joe Caldwell, Joe Heckman and Chris Kitts; and Congressman Chuck Fleischman for the invocation.
In addition, the companies who worked to make this event special included Gateway Liquor, Cherokee Distributing, Ashley Ruppe Photography, M&M Productions, Ladd Golf Carts, All Occasions Catering, Knoxville Photobooth and Joe & Toni Haba and the team at Barn at Maple Creek.
There were generous donors who donated items for the live auction: A1 Tactical; Kim Bell MedSpa; Blue Springs Crow's Nest Restaurant; Bunch Marine; Brushy Mountain; Cadillac Grill; Caney Creek RV Resort & Marina; CCMSI; Club Tan Salon; Coldwell Banker, Jim Henry & Associates; Lisa Collett, Morgan County Economic Development Group; Diamond Tap Tavern; Dunkin'; E-Jay Thermo; El Cantarito; Express Employment; Congressman Chuck Fleischman; Gateway IGA; Gondolier; Los Primos; Mackley Jewelers; Matlock Tires; Oliver Springs Historical Society; One Step Closer; ORUD Natural Gas; Kent Stephens; Tanner's Historic Café; TN Pirate Fest; WIVK; Wright's Spirits and Senator Ken Yager.
For links to Gala photos and additional information, including a list of donors for the online auction held in April, visit Roane Alliance.org/Gala. Please make plans to attend next year's Gala on Friday, April 28, 2023 at The Barn at Maple Creek.