Rockwood High School Students Visit Local Manufacturers for Students in the Workplace
September 30, 2022
ROANE COUNTY, TN – Fifty-five Rockwood High School Career and Technical Education (CTE) students visited four manufacturing companies in the Roane County Industrial Park in Rockwood on September 13, 2022. The purpose of the visits was to learn about each of the manufacturers and the types of career opportunities they offer. The students visited Daycab
Company, Heubach Corporation, MPP, and Sauter Timber.
The students visited each company for one hour, toured the company's facilities, and learned about what the company manufactures and how they do it, the services provided to their
customers, the size of the company, its workforce requirements (i.e., knowledge, skills, abilities, education requirements, employee attitude, etc.), and career opportunities.
Roane County Schools' CTE programs provide students with a broad range of choices in career and technical education courses which are relevant to today's global society. These
programs enable students to pursue their career paths and become tomorrow's successful citizens, workers, and leaders. The Rockwood High students are enrolled in Automotive, HVAC
(Heating, Ventilation, and Air Conditioning), or STEM (Science, Technology Engineering, and Math) CTE programs.
Accompanying the students were Rockwood High School Principal Leanne Malicoat, Roane County Schools' new CTE Director Cindy Lockett, CTE Career Counselor Corey
Mashburn, and three CTE teachers, Brett Crawford (STEM), Michael Dugger (HVAC), and Michael Lunnemann (Automotive). The visits were coordinated by Allen Lutz, the Director of
Education Workforce with The Roane Alliance, in conjunction with Roane County Schools and the participating businesses.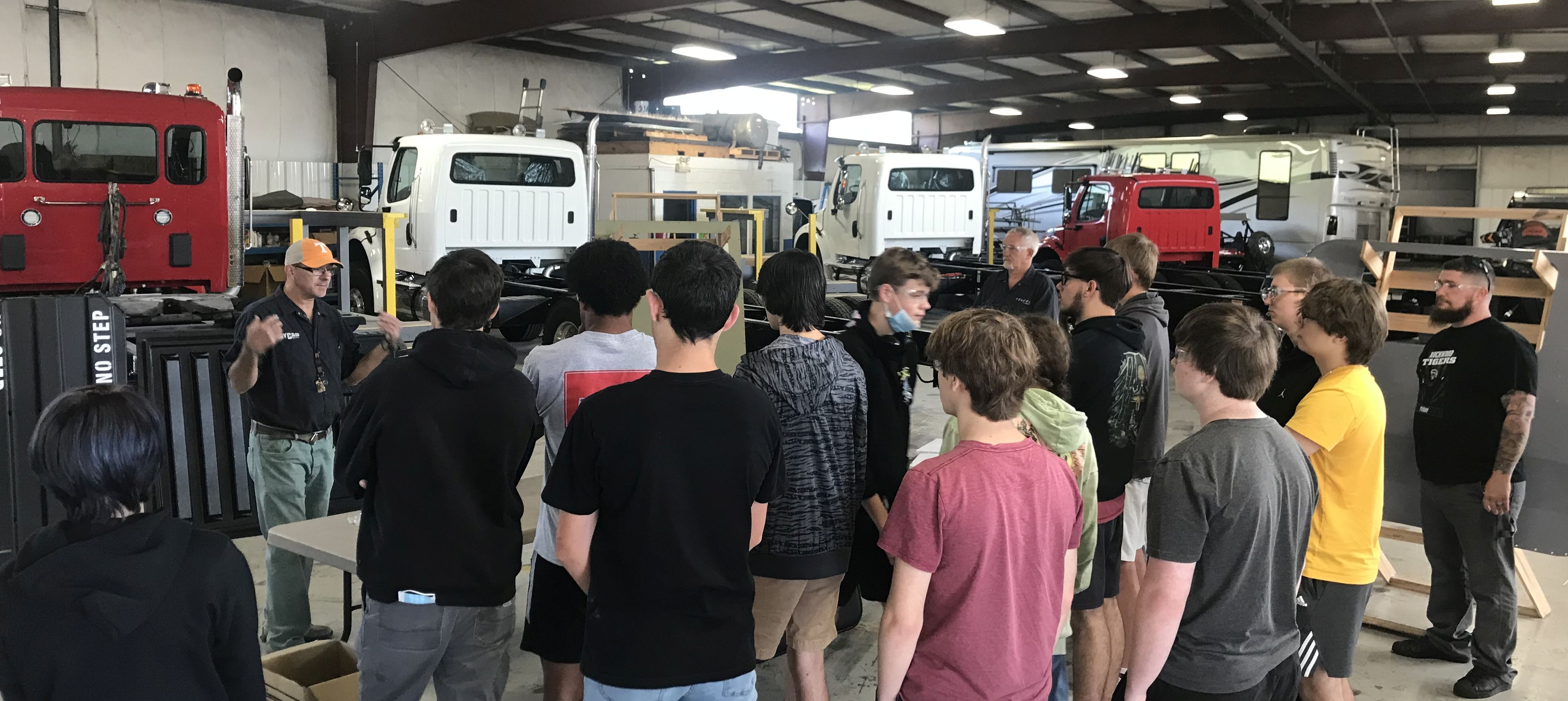 This is the first time the Daycab Company has participated in the Students in the Workplace program. The Daycab Company is the largest manufacturer of Day Cab Conversion Kits, Extension Kits, and Interior Upholstery Kits. Senior Plant Manager David Adkisson and Facility Manager Kevin Knutson led the students through the company. Learn more at
www.daycabs.com.
Having seen the high-quality conversions and upholstery upgrades Daycab does, one student asked if he could bring his truck in for an upgrade. "Better than that," replied a Daycab
employee, "get a job and training here, and you'll be able to do it yourself, on your time, and use scrap materials for free."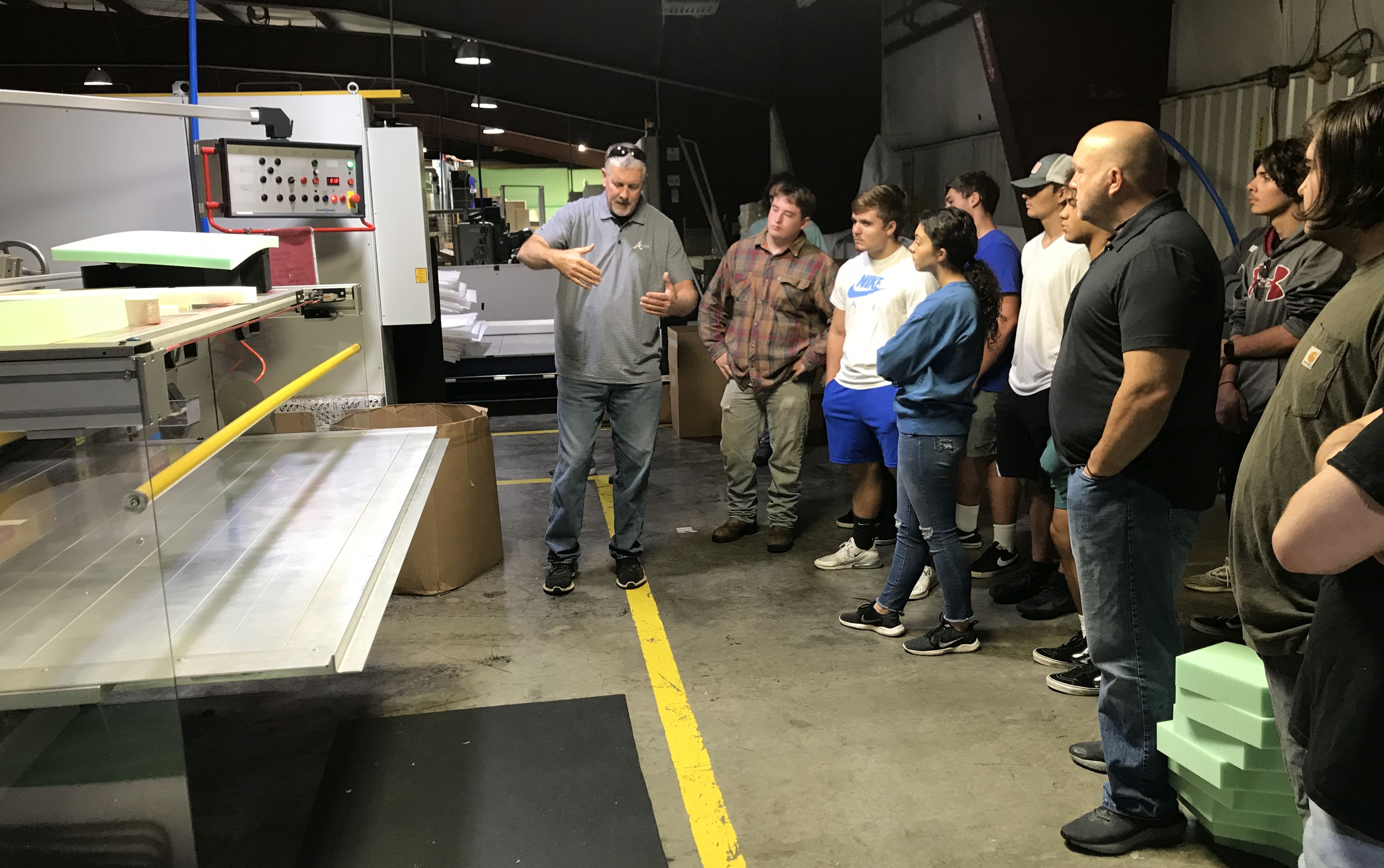 The Heubach Corporation is relatively new to Roane County, and this was its first opportunity to host students and educators. Heubach is a premier leader in the conversion and manufacturing of flexible materials. It offers an array of custom foam products and custom packaging materials designed and engineered to provide a wide range of items with added
protection during shipping, handling, and storage. Learn more at www.heubachcorp.com.
Many students were surprised by the wide range of materials used by Heubach in packaging, from hard to very soft, and the many ways it can and cannot be cut depending on the
unique texture of the material – cutting by wire, razor blades, die-cutters (think of cookie cutters that use 40 to 200 tons of pressure), and a stream of water at 40,000 psi.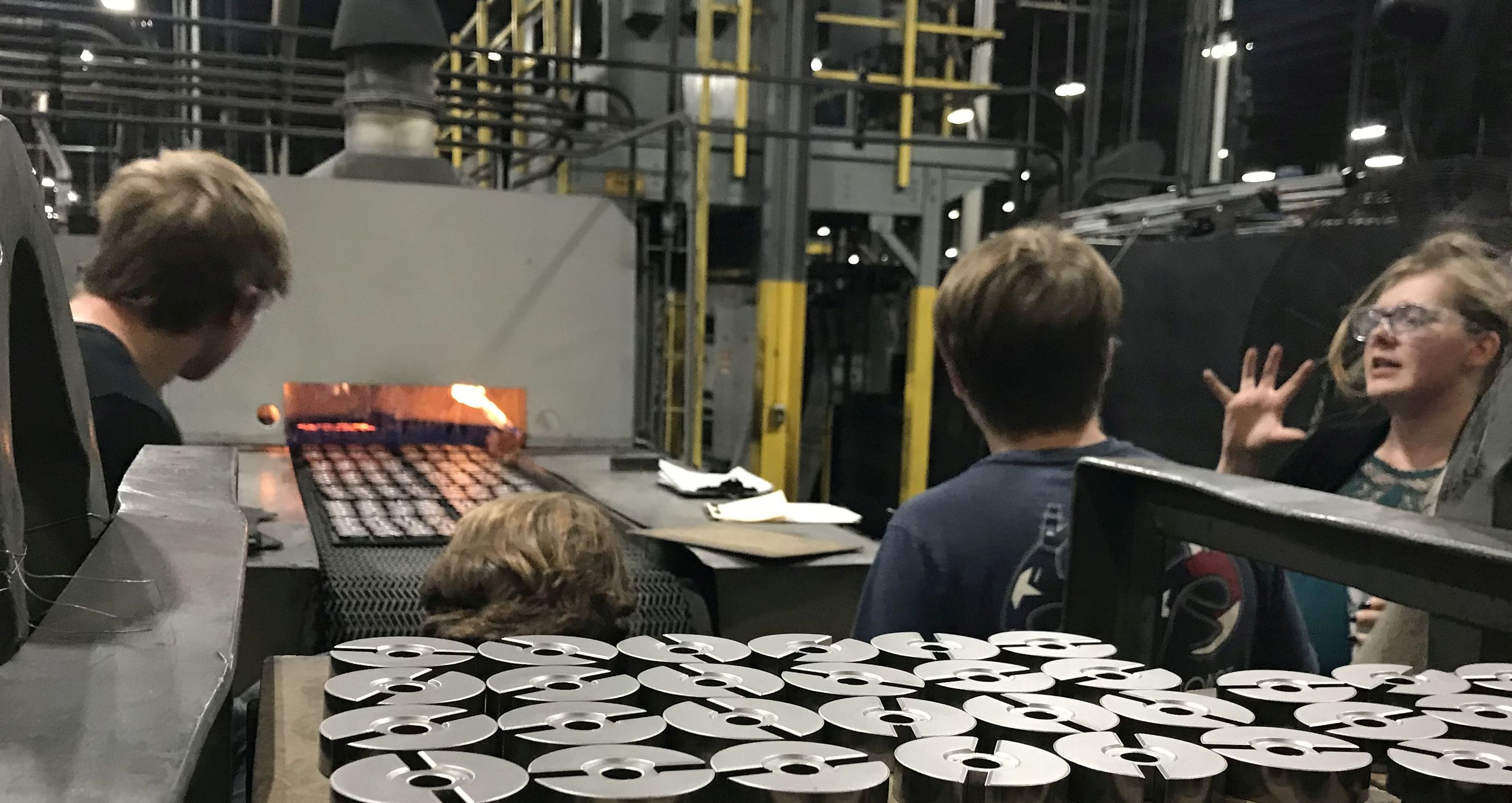 At MPP, Millie Price, the Human Resources Manager, began the tour with an introduction to the company - centering on its commitment to employee engagement, community
involvement, attracting the best talent, and making MPP the Employer of Choice. MPP, formerly known as Caterpillar and NetShape Technologies, is a leading employer in Roane County. It has hosted several tours of its facility during the past decade for Roane County Schools and the Roane County Leadership program.
MPP provides custom-engineered powder metallurgy product solutions to customers in various industries around the world. MPP pioneered the manufacture of aluminum PM
components and is at the forefront of Metal Injection Molding (MIM) technologies. Using bestin-class CNC compaction technology, MPP can produce parts with a complexity far beyond the ability of others in the industry. Learn more at www.mppinnovation.com.
After the visit to MPP, Principal Malicoat considered others who could learn from a visit to MPP, "We need to schedule our chemistry classes to come here. This is fascinating!"
Andreas Sauter, Sauter Timber's Vice President, and John Barker, CAD designer, gave every student a handout about the company and a five-question fill-in-the-blanks questionnaire. Correctly completed questionnaires at the end of the tour would yield a prize, said Sauter, "and everyone will have the correct answers."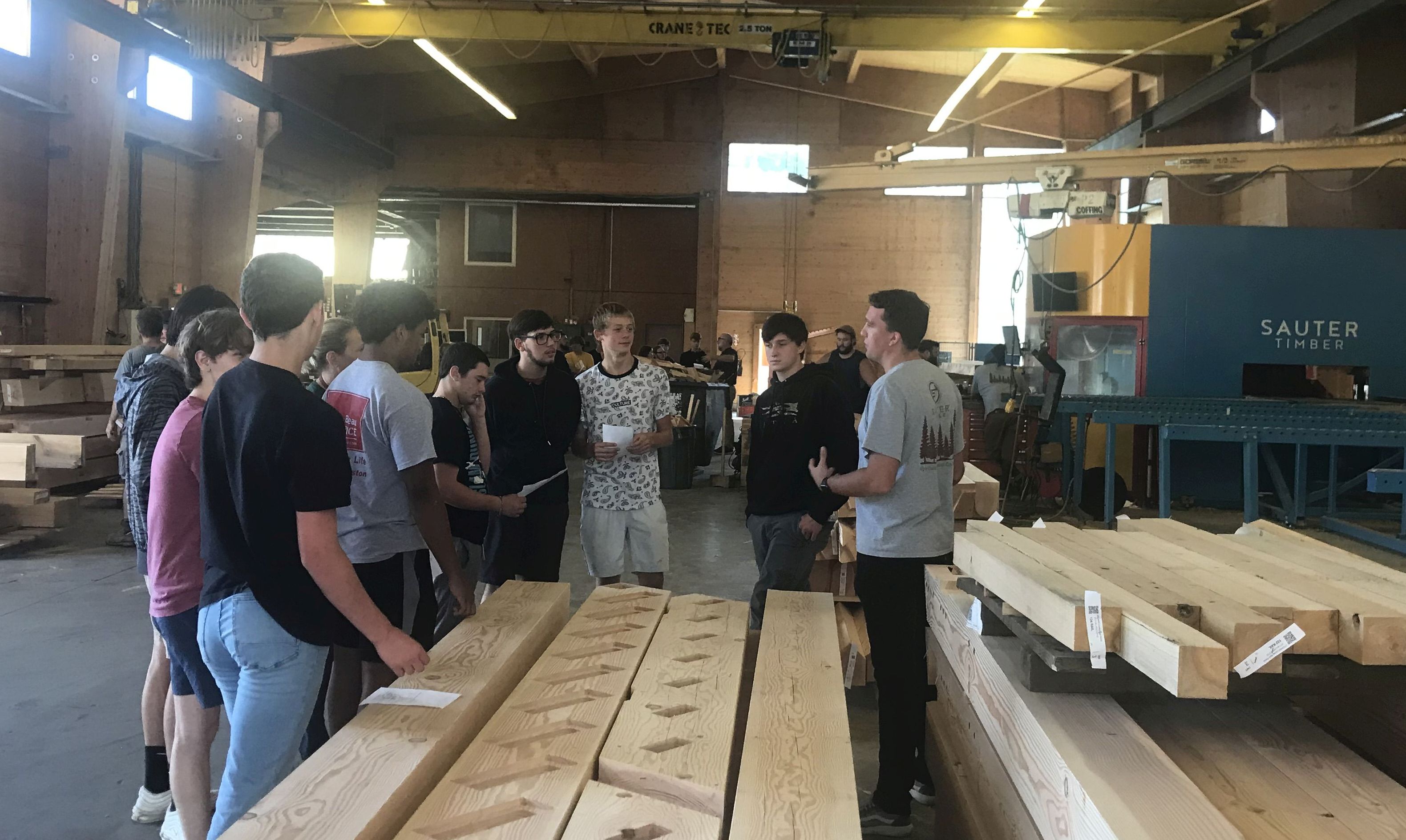 Sauter Timber was the first company in North America to use CNC technology to prefabricate timber structures off-site. Since 2002, Sauter has been supplying job sites across the
World with everything from outdoor structures to entire houses. They use computer-aided design (CAD) software to meet their customer's design needs. This design is then transferred to the
CNC (Computerized Numerical Control) machine to fabricate the designed structure. Their products are designed so a customer can install an entire house as if it were a piece of furniture. Learn more at www.sautertimber.com.
At the end of the Sauter Timber tour, the students turned in their questionnaires showing they knew, among other things, what CAD means and the most important quality for a Sauter Timber employee: Dependability. Sauter was correct, every student had the right answers, and each received a Dunkin' Donut gift card.
"These visits allowed CTE students and educators to learn about career opportunities for our students upon graduation, as well as opportunities for our students to participate in internships and part-time work that could lead to full-time positions in the future," said Mashburn. He added, "We are grateful to these industries for allowing us to visit and gain a wealth of knowledge on how we can partner with each other to better our students' future opportunities."
"With the leadership and support of Russell Jenkins, Director of Roane County Schools, we are providing students and educators with visits to local businesses," said Lutz. "On March 30, 2023, we are conducting a combined High School and Middle School Career Day at Harriman High School. Last year, more than 50 organizations participated in that event." The Career Day events are also supported by student volunteers from the Tennessee College of Applied Technology-Harriman and by Harriman's Food City by donating water and snacks for the business representatives.
"The Students and Educators in the Workplace programs and Career Days are some of the most important workforce development actions that the Roane Alliance coordinates with our schools and businesses," said Lutz. "These events could not have been accomplished without the leadership of the Roane County Schools and the dedicated leaders of the many organizations that host our students and educators."
The Roane Alliance's mission is to create an environment and a unified voice that promotes job creation, economic development, and enhanced quality of life, education, and the workforce.  To learn more about the Alliance and its partners, please call 865.376.2093 or visit www.roanealliance.org.

##