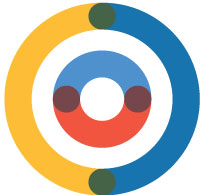 Educators & Industries Spend a Day Dedicated to Roane's Future Workforce
August 10, 2018
ROANE COUNTY, TN – On August 6, approximately 120 Roane County middle school teachers and counselors spent their day visiting and learning about local manufacturing businesses, as well as Roane State Community College and Tennessee College of Applied Technology in Harriman.
"When combined with the similar visits for the high schools a year and a half ago, Roane County Schools looks to be the first Tennessee School District to have all of its middle and high school teachers and counselors accomplish this important workforce awareness goal," said Roane Alliance's Allen Lutz, Education and Workforce Development Specialist.
With a mission to increase emphasis on Career and Technical Education (CTE), the Roane Alliance and Roane County Schools have been working together to increase and enhance workforce development activities that improve career knowledge and readiness of future workforce by engaging not only high school but also middle school students. To improve on that mission, Roane County Schools appointed the first-ever fulltime CTE Director - Lance Duff, in 2017. And this year, J. Corey Mashburn was hired as Career Counselor and the school district participated in the Tennessee Pathways initiative, part of the State's "Drive to 55" program which supports aligning K-12 and postsecondary education with industry.
"Providing our educators the opportunity to visit advanced technology manufacturing companies right here in Roane and learn first-hand the career opportunities offered as the new school year begins, can be very impactful when teaching our future workforce," said Wade Creswell, President/CEO of the Roane Alliance. "This is one of the most important workforce development actions that the Roane Alliance has coordinated with our schools and businesses, and it could not have been accomplished without the leadership of the Roane County Schools or the dedicated leaders of the organizations that hosted our educators."
Added Creswell, "Now the educators can provide students with the relevant education and training needed to jumpstart their education with a greater awareness of the careers available in Roane County."
The three Rockwood manufacturing companies visited were Albahealth, DWK Life Sciences, and MPP. Each of the visits allowed educators to learn about the workforce skills (hard and soft skills), attitude and work ethic needed for the individual and the organization to be successful. With educators also learning what the organizations produce and the services they provide, the visits underscored the importance of establishing relationships between educators and business representatives in order to support and enhance the education and training of the future workforce.
"We also learned that all three industries are currently hiring and training new employees now, and are open 24/7," added Lutz.
Albahealth, part of the Encompass Group, is one of the leading manufacturers and marketers of medical healthcare textiles, as well as other innovative medical products.
DWK Life Sciences, formerly known as Kimble Chase Life Science & Research, is a leading manufacturer of precision glassware, laboratory consumables and specialty products for life sciences applications.
MPP, formerly known as NetShape Technologies, is an international provider of custom-engineered powder metallurgy product solutions to customers in a variety of industries; it manufactures millions of parts made from powered metals for its customers.
At Roane State Community College, educators learned about the dual enrollment opportunities existing at each of the high schools - Middle College and Early College – each allowing students to obtain post-secondary education credits while in high school. And at the Tennessee College of Applied Technology-Harriman, the educators learned about the college's eleven programs: Administrative Office Technology, Automotive Technology, Certified Nursing Assistant, Cosmetology, Diesel Powered Equipment Technology, Industrial Maintenance Technology, Machine Tool Technology, Medical Office Assistant, Practical Nursing, Residential/Commercial/Industrial Electricity, and Welding Technology. The educators also learned about Tennessee Promise, the state's last-dollar scholarship program for graduating high school seniors to attend a TCAT or Tennessee community college.
The Roane Alliance is Roane County's comprehensive resource in anything and everything concerning businesses, tourism and economic development. Our mission is to create an environment and a unified voice that promotes job creation, economic development, enhanced quality of life, education and workforce. To learn more about the Roane Alliance please call 865.376.2093 or visit www.roanealliance.org.
##