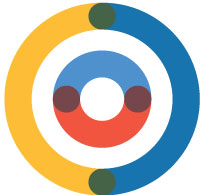 'Shop Where Your Heart Is' Shopping Spree Contest Winners Announced
January 2, 2019
KINGSTON, Tenn.— Roane County Chamber, a partner of the Roane Alliance, announced the winners of their "Shop Where Your Heart Is" shopping spree contest on Thursday, December 13 at their annual Christmas Open House.
The goal of the contest is to encourage residents to shop locally and offer a potential reward for those who do. Individuals were asked to include the name of the store and the amount spent at the location in addition to basic contact information. This data helps the Chamber better understand how Roane residents are choosing to do business with its members during the holiday season.
"Support for small businesses is very important to Roane County. Not only does shopping locally build relationships between our community members and business owners, but it also attracts new visitors, creates job opportunities, and much more," said Pam May, Interim President of the Roane Alliance.
By shopping at local business, residents are putting money back in the community. One-half of Roane's local sales taxes goes directly to the school system; and, for every $100 spent in a locally owned, independent business, $68 returns to the community, according to one nationally known "shop local" advocacy group.
"Shopping locally not only increases the likelihood that money spent will stay in Roane County, but also stimulates local job growth, attracts new visitors to the area, and builds a sense of community among neighbors. Supporting our local businesses is a vital piece of the community's sustainability," added May.
A full list of participating retailers can be found at roanechamber.com/shoproane.
# # #
About Roane County Chamber
The Roane Chamber, a partner of the Roane Alliance, works to enhance the lifestyle and business climate of Roane County and to promote existing business and industry by developing partnerships with federal, state and local organizations to carry out a variety of projects. The Roane Alliance is the comprehensive resource in anything and everything concerning businesses, tourism and economic development in Roane County, which includes the Industrial Development Board, Visitors Bureau and Chamber, and programs such as Education Matters and Retire Roane. Our mission is to create an environment and a unified voice that promotes job creation, economic development, enhanced quality of life, education and workforce. To learn more about the Roane Chamber or the Roane Alliance please call 865.376.2093 or visit roanechamber.com or roanealliance.org.