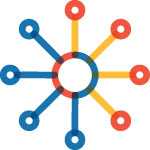 It Benefits Us All!
Roane Chamber's buy-local program, 'Shop Roane,' has been raising awareness of the importance of shopping local for many years.
At Christmas, the Shop Roane Shopping Spree Contest, drives shoppers to participating businesses for a chance to win cash; while the Saturday after Thanksgiving has become known in Roane as Super Saturday, a day when the Chamber challenges everyone to spend at least $50 at a local business and the Roane Alliance encourages all board members.
Through social media and advertising in the Roane County News, the Chamber promotes local shops, particularly Chamber member businesses, as they are the businesses investing in their community. The Chamber has also partnered with Roane County Schools by providing flyers and banners to promote the program since the schools rely greatly on the sales tax that retail generates. For a complete list of Roane Chamber Members click here and search by category or by name.
The Chamber challenges everyone to shop local year-round, because it really does help us all. According to one nationally-known "shop local" advocacy group, did you know?
One half of all local sales tax goes directly to Roane County Schools;
For every $100 spent in locally owned independent stores, $68 returns to the county for other important services;
Nothing returns to Roane County when purchased online; and
It's cheaper and greener, saving you the energy and expense of traveling out of the county.
Forward Together
In Spring 2020, the Shop Roane program became more important than ever when our local businesses struggled to stay afloat because of the COVID-19 pandemic. The Chamber and Roane Alliance staff dropped what they were working on to help local businesses as they navigated during the unprecedented time. Socal media posts were ramped up, informational webpages were created, and the Roane Alliance supported the Roane County News so they could also help get the important information out, including which businesses were open for curbside and delivery.
A Facebook Group - Forward Together - was also started by the Alliance, dedicated to promoting and supporting Roane County businesses. Business owners, residents and visitors can use the group as a resource to learn about local businesses, while also posting and sharing updates about those local businesses offering delivery, curbside pickup, online gift cards, and more.
We challenge everyone to find their favorite local businesses and shop their website or call them on the phone. Let's all use this time to get to know our small business owners and help them through this difficult time. Join our Facebook group and help unite roane so we can all move Forward Together!