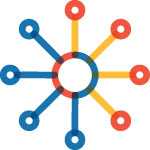 Sizzle TechStart Announces First Incubator Client
December 21, 2016
LENOIR CITY, Tenn.—More than 40 people gathered at Sizzle TechStart, a small business incubator, to celebrate the move in of their first agricultural technology client, Grow Bioplastics, on Thursday.
Sizzle TechStart is the product of a collaboration between the Roane Alliance, Knoxville Entrepreneur Center, Proton Power and the Roane Chamber. They provide business startups space and services in the Roane Regional Business and Technology Park. Public officials such as Roane County Executive Ron Woody, State Senator Ken Yager, State Representative Kent Calfee, Chamber Board Chair Marilyn Calfee and others attended the event.
Grow Bioplastics, founded by Tony Bova and Jeff Beegle, developed a biodegradable plastic made from biomass and forestry waste to protect crops while they grow. Farmers typically use an oil-based plastic that has to be manually removed at the end of each season.
"It cost (farmers) an incredible amount of money to remove the plastic and have it sent to a landfill," Bova said. "We made a biodegradable plastic they can till into the fields at the end of the season, therefore eliminating removal costs."
In addition to Grow Bioplastics' arrival, the group celebrated a recent grant to the Knoxville Entrepreneur Center from the United States Department of Agriculture and Tennessee Department of Agriculture. This grant will help attract more entrepreneurs and businesses, like Grow Bioplastics, to Roane County and East Tennessee.
"There are a lot of young people out here with some great innovative ideas about agriculture," said Bobby Goode, USDA Rural Development State Director for Tennessee. "To be able to help those people bring those ideas into a business model and carry them out, and for rural Tennessee to benefit from that, is a great opportunity for us … we're proud to be a part of this."
Wade Creswell, president and CEO of the Roane Alliance, said that the Alliance is all about partnerships, and they chose to partner together to create Sizzle TechStart to fill a need in the area.