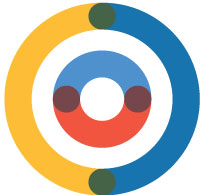 ThreeStar: Learn about our competitive edge
Successful economic developers know that at the heart of a competitive economic development strategy is community development. The ThreeStar program is geared to assist your community development efforts and ensure that you compete at a higher level through enhancing and improving community assets.
The ThreeStar program is designed to focus on these areas, identified as critical to ensuring the success of Tennessee communities:
Jobs & Economic Development
Fiscal Strength & Efficient Government
Public Safety
Education & Workforce Development
Health & Welfare
Eligibility
Participation in the ThreeStar program is based on an annual evaluation and activity plan. Local community leaders and Joint Economic and Community Development Boards are encouraged to implement activities that will impact the community's competitiveness in a global economy. Participating counties (and cities in these counties) will be eligible for a four-percent discount (for eligible projects) on both the business development and community development ability-to-pay calculations (CDBG and FastTrack) each year the county fulfills the requirements of the ThreeStar program.
Only cities located in a county that is an active participant in the ThreeStar program will be eligible to participate in the Tennessee Downtowns program. There is an annual grant for Tier 2 and Tier 3 counties to serve as seed money for activities (not to offset general operating expenses) focused on improving at least one of the measured areas of the program: health and welfare, public safety, and education and workforce development.
Scorecard
Each year, TNECD will provide participating counties with a scorecard that documents progress indicators in the five focus areas. These indicators are used to aid the county in evaluating these key areas, the scorecard will document progress toward achieving the community goals set by local community leaders and JECD boards.
The scorecard and activity plan is designed to assess and reward each county on its unique progress in the three scored areas identified in their ThreeStar Activity Plan. It is not a competitive system; counties compete only with themselves. Each county can address local issues through proven solutions by collaborating with other communities to share best practices and resources.